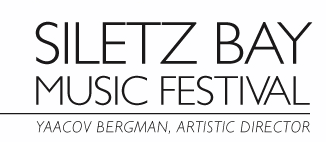 Siletz Bay Music Festival History
Against an incomparable backdrop of booming seas, rugged coastlines and the beauty of the beaches, lake and bays, audiences have enjoyed world-class music at sites in and around Lincoln City for an uninterrupted run of 32 years. The magnificence of the setting and the enthusiasm of the audiences have combined to attract some of the world's most talented musicians to a festival that now embraces a broad range of musical traditions including classical, jazz, big band and cabaret.
Most recently, under the direction of Maestro Yaacov Bergman, the annual event, which over the years evolved into the Siletz Bay Music Festival, has expanded to sixteen days drawing audiences from far and wide for an adventurous musical feast suited to every taste. Star performers have made the Siletz Bay Music Festival one of the Northwest's premiere musical events. These include Sarah Kwak, prominent violinist and concertmaster of the Oregon Symphony, Mei-Ting Sun, gold medal winner of the National Chopin Competition, world renowned composer and jazz pianist Dick Hyman, clarinetist extraordinaire Ken Peplowksi, virtuoso soloists from all over the world and an orchestra comprised of consummate professionals have made the Siletz Bay Music Festival one of the Northwest's premiere musical events.
The Siletz Bay Music Festival traces its roots to the mid-1980's and an informal series of salons held in the home of Sergiu Luca, a part-time Oregon Coast resident and professor of violin at Houston's Rice University. Professor Luca purchased his home on Cascade Head with the express purpose of bringing chamber music to his new community in Lincoln City, something he had already accomplished by founding Chamber Music Northwest in Portland. Sergiu created the Cascade Head Music Festival in 1987 and served as its Artistic Director until 2008.
Since that time the tradition of the coast's music festival has been carried on under a succession of banners. With Professor Luca's departure, Lee Freed of the Freed Gallery in Lincoln City took up the reigns of the Cascade Head Festival. She sought a new music director who would not only carry on the tradition of Cascade Head but expand its musical scope as well. Mrs. Freed recruited Maestro Yaacov (Yaki) Bergman as Artistic Director and the expanded concept became a new music festival in 2009 — SoundWaves. SoundWaves operated under the umbrella of Let There Be Arts, an organization that Freed had co-founded to bring visual arts to Lincoln City schools. In 2011, Maestro Bergman and local community leaders created the Siletz Bay Music Festival (SBMF), an independent entity organized as a 501(c)(3).
Festival leaders sought to use SBMF as a means to address decreased public school funding for the arts. An opportunity presented itself through the Fred W. Fields Fund administered by the Oregon Community Foundation (OCF). Collaborating with the Lincoln City Cultural Center and Lincoln City Schools, SBMF Board chair, Christine Tell submitted a successful proposal for a coveted Studio to School grant. Administered by SBMF, the grant provided a $280,000 5-year program to restore music education in Lincoln City Schools. Approximately 1,200 students in grades K-12 benefit from this program annually with music instruction now required for all students in K-6.
With the 5-year OCF grant concluding in August 2019, a new 501(c)(3), Music is Instrumental, was created to continue raising funds to provide musical instruments and support music education for students in the Lincoln City Schools.
The Siletz Bay Music Festival has grown from an intimate chamber music series to become a centerpiece of the cultural life on the Central Oregon Coast, bringing great chamber and orchestral music, jazz and added surprises for two weeks each summer to throngs of Lincoln City residents and visitors alike. While the Festival has changed, the constant has been the devotion of the audience on the Central Oregon Coast to good music.