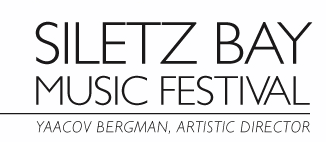 SILETZ BAY MUSIC FESTIVAL JUNE 19TH – JULY 4TH 2019
WHAT'S COMING! WHAT'S NEW!
Fifteen events performed by 60 musicians from all over the U.S.
and across the globe
•
Eight Classical Chamber Music Concerts
•
Four evenings of Jazz, Cabaret, Musical Theatre and American Song Book Concerts.
•
Three Symphonic Concerts including Young People / Family
Wednesday, June 19, 7:30pm
Gala Opening Night all Chopin recital featuring Siletz Bay Festival favorite, gold medal winner of the National Chopin Competition, Mei-Ting Sun who continues to receive rave reviews: "Stunningly fluid" — New York Times, "Bewitching … Superb" — Boston Globe.
A new face certain to become another Festival favorite, jazz/classical piano virtuoso, Rossano Sportiello, who will participate in both the chamber and jazz components of the Festival and appear as soloist with the Festival Orchestra in Gershwin's ground-breaking Concerto in F.
Sunday, June 23, 4:00pm
Musical Tapas is back! This informal Sunday afternoon program of fun, food and musical pranks returns for its ninth season by popular demand.
A Festival first… visiting composer, Ofer Ben-Amots, will present a pre-concert conversation introducing his new work, "Montage Music", inspired by Santa Fe visual artist, Bebe Krimmer. Her work will be projected during the performance.
Monday, June 24, 7:30pm
"Jazz Classics and Classics in Jazz" speaks for itself and reflects the Festival philosophy of diverse musical styles to satisfy diverse musical tastes. This program features the remarkable artistry of the Festival's classical and jazz musicians under the leadership of the one and only Ken Peplowski on clarinet and saxophone, considered by critics and audience alike to be the living Benny Goodman.
Saturday, June 29, 7:30pm
Night at the Symphony featuring two angelic voices, acclaimed sopranos Samantha Farmilant and Nicole Greenidge Joseph in Mozart selections , and acclaimed violinist, Asi Matathias, as soloist in the beloved Tchaikovsky Violin Concerto with its lush harmonies and delicious melodies. "Matathias created magic with an immense richness of sound and colors" Kölner S tadt-Anzeiger, Germany
Thursday, June 27, 7:30pm
Postcard From Home featuring the unique musical language of three distinguished Amercan composers, William Bolcom, Paul Schoenfield and Ernest Bloch. Bloch's monumental piano quintet will be performed in tribute to the composer's years spent at the Oregon coast and in memory of his grandson, Ernie Bloch, a great friend of the Festival who passed away last fall.
Monday, July 1st, 4:30pm
Peter and the Wolf… The Siletz Bay Music Festival presents a Young People's Concert free of charge every summer and 2019 will be no exception. This summer's program will offer the delightful story of Peter and the Wolf by Russian composer, Sergei Prokofiev, with narration by Joan Behrens Bergman, wife of the Festival's artistic director, Maestro Yaacov Bergman.
Sunday, June 30 4:00pm
Benefit Concert… You won't want to miss the 2019 Festival Benefit, a fabulous evening of scrumptious food, a spectacular jazz program, "Basie, Benny and Beyond" featuring the Festival's remarkable jazz team, and ballroom dancing all accompanied by the outstanding Swing Shift Jazz Orchestra.
Thursday, July 4 4:00pm
This year's grand finale Fourth of July Concert will offer a celebration of American music that includes the world premiere of "Siletz Bay Serenade", a new work by composer Charlie Creasy accompanied by a video presentation of the many moods of the Siletz Bay by Barbara Fox, a tribute to the great Nat "King" Cole in celebration of the hundredth anniversary of his birth, and a performance of Gershwin's ground-breaking Piano Concerto in F with Rossano Sportiello as soloist.